Want to make your own cabinet doors, but don't know where to start? Check out these easy DIY cabinet door ideas in a huge range of styles!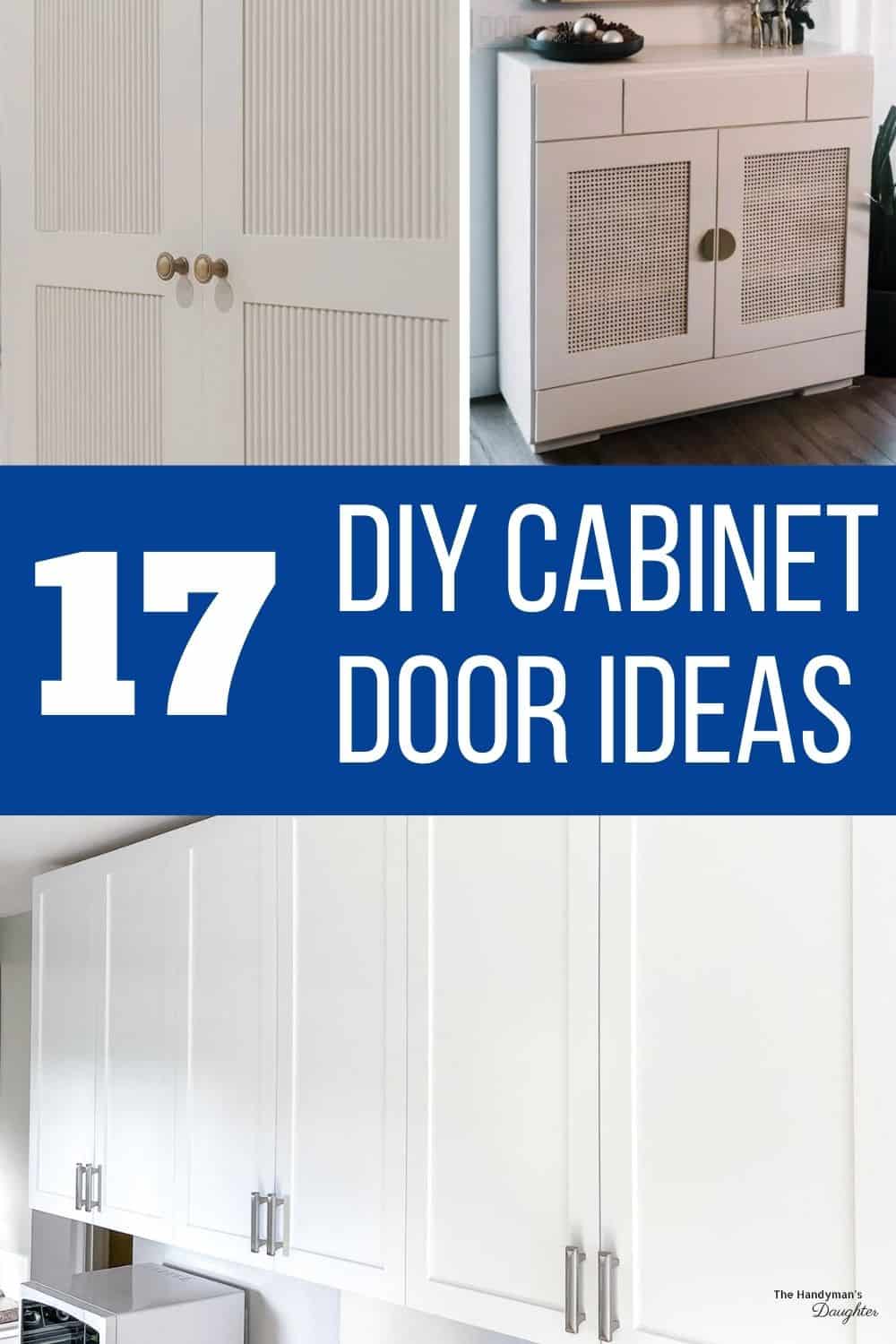 Want to give your kitchen or bathroom a makeover, but don't have the budget for new cabinets? These DIY cabinet door ideas will inspire you to update what you already have, or build new ones for a fraction of the price!
Sometimes all you need is a few coats of paint and new door pulls to totally transform your kitchen! If you're updating your existing cabinet doors, you may need to fill the screw holes from the hardware if the new ones are a different size. Check out my 80s kitchen transformation for more details!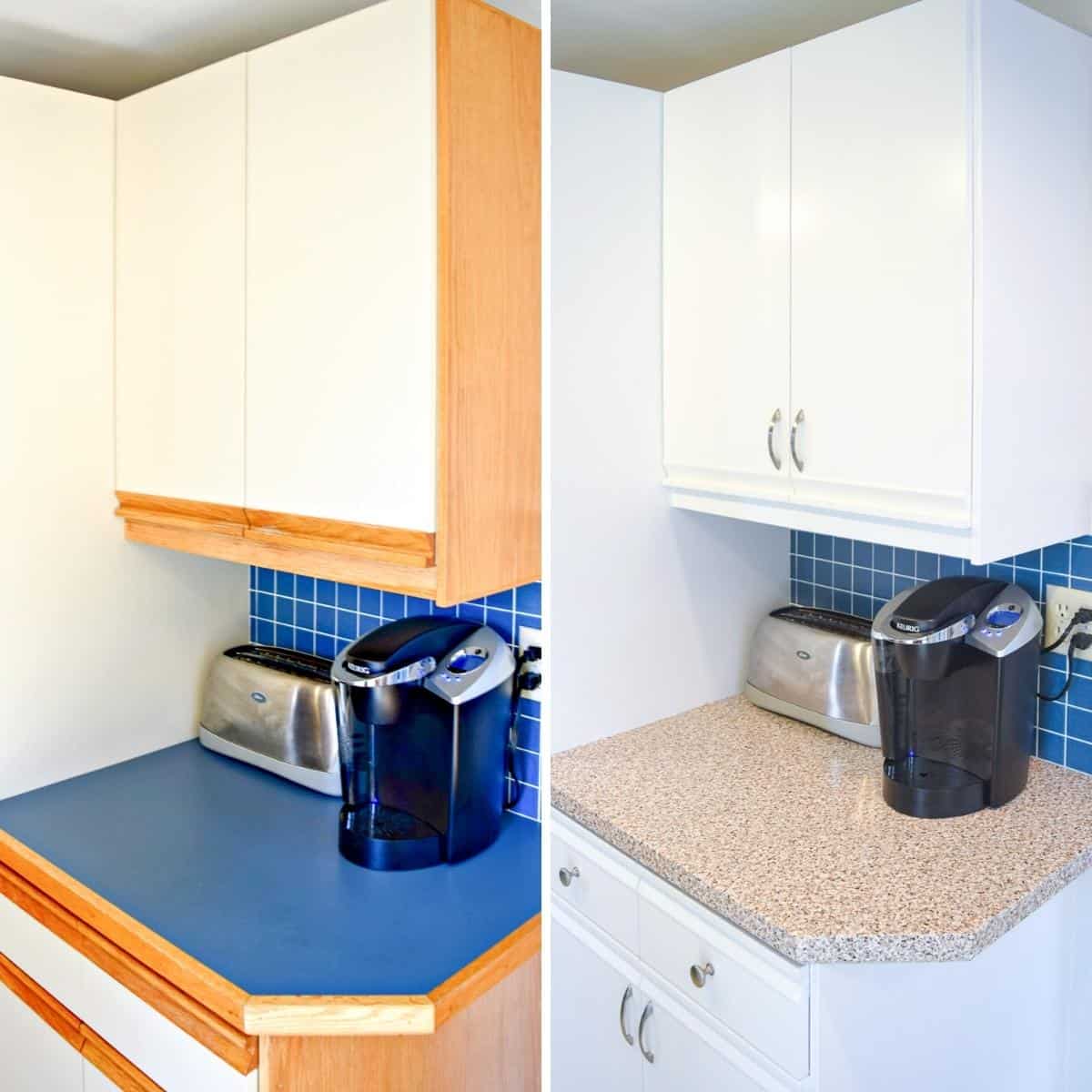 While you're at it, replace the cabinet hinges with slow close versions, so you never hear them slam again! Here's a step by step tutorial on how to install cabinet hinges if you're never done it before. You may need to drill new holes in the back of the door, but this concealed hinge jig makes it easy!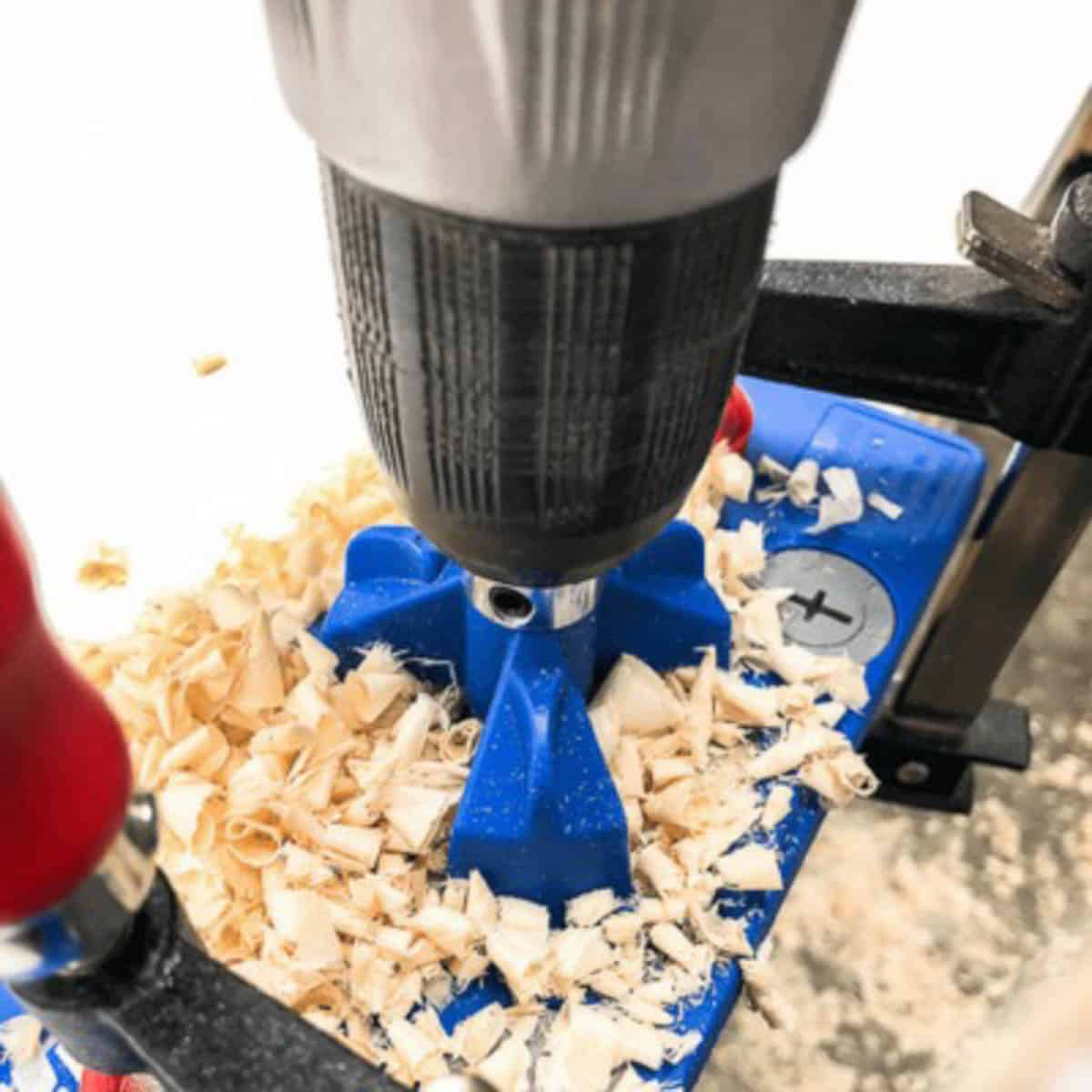 There are a broad range of cabinet door styles to choose from. Whether you're buying new or making your own, be sure to take good measurements first! I have a full tutorial on how to measure for cabinet doors, with a worksheet to help keep all those numbers straight!
Ready to be inspired? Let's go!
Shaker cabinet doors are one of the most popular styles, for good reason! The design is timeless, so your kitchen won't look dated in a few years. Learn how to make your own Shaker cabinet doors and save a ton of money with this tutorial!
This renter-friendly DIY project uses contact paper for cabinets to give your flat-front kitchen cabinets a new look on a budget! It's easily removable, and doubles as a dry erase board to keep track of schedules or grocery shopping lists!
Check out more creative ways to use contact paper here!
Don't have the space for a full swing cabinet door? Make your own shaker-style cabinet doors with pocket holes, then install this folding barn door hardware to create DIY bifold cabinet doors!
You don't need to tear out your entire bathroom vanity to get the look you want. Purchasing cabinet doors and finishing them yourself is a great way to update an old cabinet and save money too!
Photo Credit:
www.remodelandolacasa.com
Photo Credit:
housefulofhandmade.com
Build your own cabinet doors for just $8 and some leftover beadboard! They're made with furring strips, but you can get pricier lumber if you want to save a few steps in the finishing process. But this inexpensive wood is perfect to use if your cabinet doors are in a room that doesn't get daily use.
Photo Credit:
cherishedbliss.com
Made from MDF and barnwood shiplap, these cabinet doors are easy to make and have a great rustic look. Wait until you see the faux steel they used to trim them with!
Photo Credit:
www.confessionsofaserialdiyer.com
Photo Credit:
www.jennasuedesign.com
Give your cabinet doors dimension with fluted trim! This look is trending everywhere right now. This DIY uses pre-made trim, but you could totally do it yourself with a router table.
Photo Credit:
www.shadesofblueinteriors.com
Tired of looking at all your junk on open shelves? Turn any bookshelf into a cabinet with this tutorial! Plywood and 1x3s are used to make these cabinet doors, which are mounted to the inside of the bookshelf with frameless concealed hinges.
Photo Credit:
lovecreatecelebrate.com
Add cane webbing to the center panel for a fresh modern look on a traditional cabinet! This would be great for items that need additional air flow, like electronics.
Photo Credit:
lilyardor.com
Give your cabinet doors the look of rattan using burlap. It's budget-friendly and easy to install using a staple gun.
Photo Credit:
athomewithashley.com
Make new doors from MDF and add fluted molding to make these new cabinet doors. You can reuse the same hinges and give the piece a fun pop of color! As a bonus, why not finish the whole vanity with fluted molding? It gives it a great upscale look on a budget!
Photo Credit:
sawsonskates.com
These cabinet doors look expensive, but they're just beadboard and cove molding. You can make these doors without complicated tools and on a budget!
Photo Credit:
www.addicted2decorating.com
Add an instant upgrade to your cabinet doors using wire mesh. It looks expensive, but it isn't! Save $$$ by making your own. All you need is a glue gun!
Photo Credit:
www.twofeetfirst.net
Do you have boring, flat front cabinet doors, or ones with a decorative design cut into them? Make them look like modern Shaker cabinets with this easy update! Add trim to the existing doors over the inlay to hide the pattern!
Photo Credit:
cherishedbliss.com
Give flat cabinet doors updated style using plywood. Ripping plywood into strips and adding them to your flat cabinet doors is an easy DIY that looks great and is budget friendly!
Which one of these DIY cabinet door ideas is your favorite? Let me know in the comments below!
Check out these other DIY cabinet ideas!