Get your front yard ready for Halloween with these DIY outdoor Halloween decorations! You'll find scary and not so scary ideas in this list!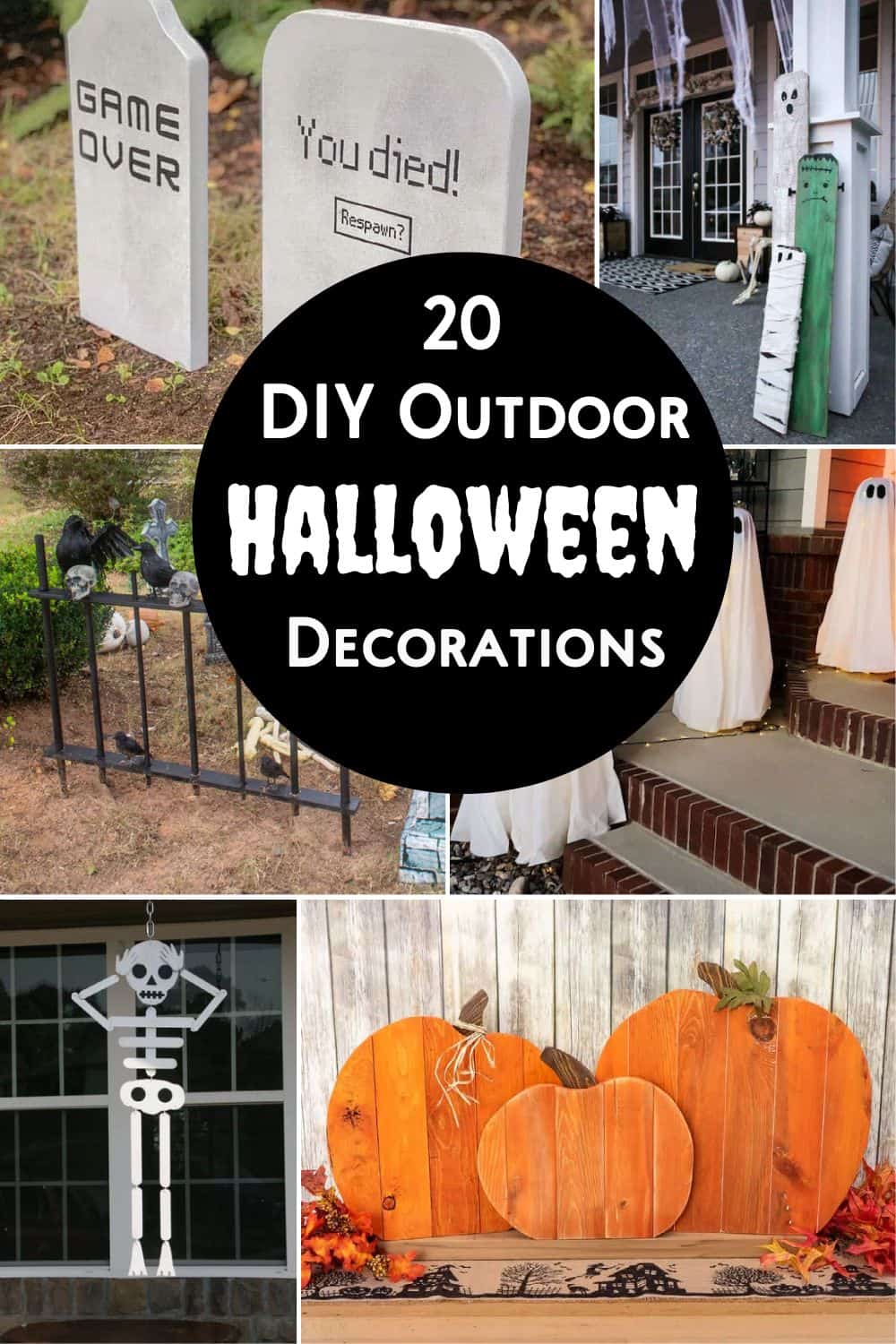 Want to decorate your front porch or yard for Halloween, but don't want to break the budget? Why buy when you can DIY!
These outdoor Halloween decorations are easy to make yourself, and can be made with basic supplies that won't cost a fortune. If you have a pile of scrap wood laying around, many of them will even be free!
I've broken the list up into two sections: cute or funny Halloween decor for little kids, and scary Halloween decorations for those who don't mind a little spookiness. Get creative and make a great display for your trick-or-treaters this year!
Fun DIY Outdoor Halloween Decorations
Not everyone is into scary decorations and that's okay. Check out these fun outdoor Halloween decorations that won't scare the little ones away on Trick or Treat night.
I love digging through my scrap wood pile and coming up with holiday decoration ideas I can make for free! You can make these simple DIY tombstones out of scrap lumber, then download the free template to make these video game themed epitaphs!
Tired of spending big bucks on real pumpkins every year, just to have them rot on your front step? This adorable pallet pumpkin trio is perfect for decorating your porch this fall, and will last for years!
You can make these out of a couple of pallets or even new wood. You can also try one of these other wooden pumpkin ideas.
Photo Credit:
www.heytherehome.com
You can make this fun sign using simple craft supplies and it won't scare away the trick-or-treaters on Halloween night.
Photo Credit:
www.makingmanzanita.com
Transform old fence boards into adorable Halloween porch decor with this tutorial. You don't need any artistic talent to make Frankenstein, mummy or ghost faces!
Photo Credit:
www.charlestoncrafted.com
A lighted pumpkin topiary is a great outdoor Halloween decor idea. You can put this together in an hour using plastic pumpkin pails and a few other supplies. Light it up on Halloween night so the kids know you're giving out candy.
Photo Credit:
chascrazycreations.com
You can make these DIY ghosts with a few supplies and a string of lights to make them glow!
Photo Credit:
www.girljustdiy.com
Need a last minute decoration that alerts the kids that you have treats, so you don't get a trick? All you need are plastic pumpkin pails and a few other supplies to make your own.
Photo Credit:
www.charlestoncrafted.com
I love this idea! A pumpkin garland for your deck or porch rail is the perfect addition for your outdoor Halloween decorations. Light them up and you will have the best looking house on the block for Halloween!
Photo Credit:
www.dabblinganddecorating.com
I know you're probably wondering how skeletons ended up on the not so spooky list, but look how fun these are! Dress your skeleton forms in clothing and add a wig and accessories for a fun outdoor Halloween decoration that will have everyone talking.
Photo Credit:
alifeofbalance.com
This DIY wooden skeleton is made from scrap plywood and paint sticks! He can be posed any way you want, and can be hung from the porch ceiling or in a window.
Photo Credit:
artsyprettyplants.com
Make a Jack o'Lantern that will last a lifetime using a plastic pumpkin as the form. Working with concrete isn't hard, you just have to jump in and try it!
Photo Credit:
www.createandfind.com
Make your own School of Witchcraft sign from plywood to greet trick-or-treaters. Muggles need not apply!
DIY Scary Outdoor Halloween Decorations
These spooky outdoor Halloween decorations are a little more gruesome or scary, but still fun!
Photo Credit:
jenwoodhouse.com
A guillotine is scary, right? Will they or won't they stick their hand through to grab that Halloween candy?
If you love scary Halloween decorations, then this one is for you. It's easy to make using plywood. No worries, that isn't a real blade and it's stationary so no one will get hurt.
Photo Credit:
madeinaday.com
Save money on decorations this year by making your own spooky pumpkin scarecrow from supplies from your local craft store. Add a scary face to a faux pumpkin and you're on your way to making this spooky outdoor Halloween decoration.
Photo Credit:
madeinaday.com
This guy will look great in your front yard for Halloween. He's made using PVC pipe and a few other supplies. Read more to see how to make your own scary werewolf decoration!
Photo Credit:
uniquecreationsbyanita.com
This spooky grim reaper is easy to put together using chicken wire, concrete and a few other supplies. Won't he be scary on your porch or in your front yard this year for Trick or Treat?
Photo Credit:
chascrazycreations.com
One witch might not be too scary, but three around a caldron ups the spooky factor. You'll need plastic pumpkins, trash bags and a few other supplies to make your own.
Photo Credit:
toolboxdivas.com
This will definitely be the scariest decoration on the block! A flaming skull head is sure to be the best outdoor decoration in your neighborhood.
Read the full tutorial to make your own and be sure not to leave it unattended on Halloween night.
Photo Credit:
www.entertainingdiva.com
Cemeteries on Halloween night are the ultimate spooky place! Create your own for your DIY outdoor Halloween display with PVC pipe and wood.
Photo Credit:
www.entertainingdiva.com
If you have a cemetery fence, you'll need the pillars to go with it. These faux pillars are easy to make and will really make your graveyard scene complete.
Check out these other DIY holiday decoration ideas!