Tired of cluttered drawers in the kitchen, bathroom or office? I've found 15 genius DIY drawer organizer ideas for every room of the house!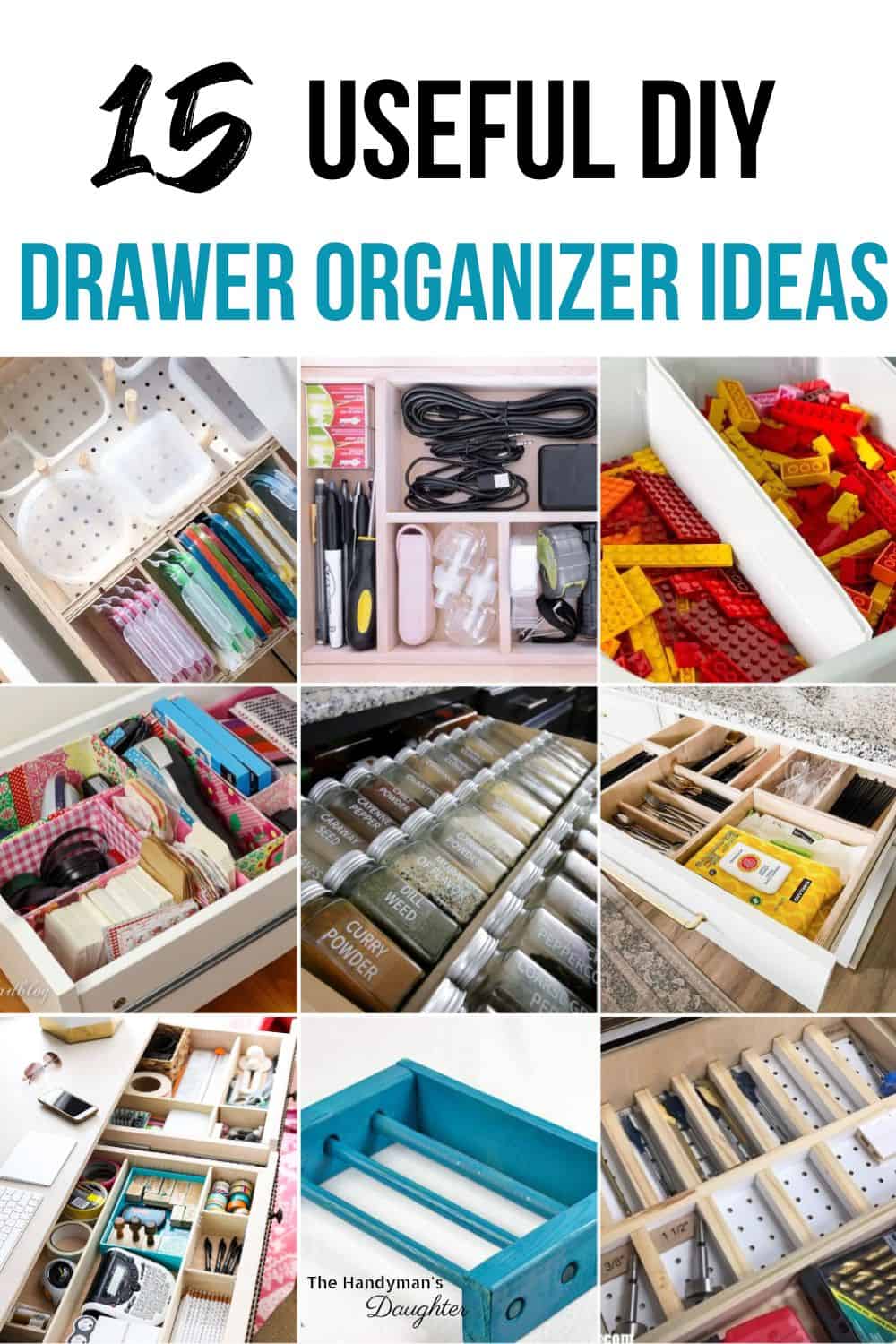 Tired of rummaging around in the junk drawer for batteries or a screwdriver? Or having to take out every spice in the cabinet to find the one you need? Is your desk drawer a disaster?
Get every drawer in the house neatly sorted on a budget with these genius DIY organizer ideas! Most of these quick and easy projects only require a few basic supplies and no power tools are necessary.
Don't spend a fortune on drawer inserts that don't quite fit. Make your own custom drawer dividers that fit YOUR stuff perfectly!
Kitchen Drawer Organizer Ideas
Cooking is so much easier when everything is organized! Keep spices, plastic containers, aluminum foil and more neatly arranged with these handy drawer inserts you can make yourself!
We're trying to cook more at home, but it's such a chore when you can't find the right container and lid to store leftovers. Our drawer was a total mess!
This clever system uses pegs and dividers to organize those containers and lids once and for all! Continue reading for the full tutorial and plans to make your own.
Photo Credit:
biggerthanthethreeofus.com
Gain more cabinet space and stop digging for that spice you need. This easy DIY project is made using plywood and a few tools.
Seeing all your spices at once will make cooking much more enjoyable and you can customize it to fit any size drawer!
Photo Credit:
www.loveandrenovations.com
We've all had those plastic silverware trays that don't fit in the drawer, that slide around, and that don't give you enough room to store utensils properly.
Make your own wooden drawer organizer to hold all your silverware and more! This one made from plywood can be customized to your desired layout and size!
Photo Credit:
diydanielle.com
Get rid of those boxes with aluminum foil, wax paper, or plastic wrap and keep them nice and organized in a drawer with this kitchen wrap organizer.
Make your own using scrap wood and customize it to fit your drawer. This easy project can be made in an hour or less!
Photo Credit:
www.charlestoncrafted.com
Customize your own tiered spice drawer organizer and store all your spices face up in your kitchen drawer.
Made from plywood with pocket hole joinery, this drawer organizer idea is sturdy and will last forever!
Photo Credit:
www.charlestoncrafted.com
Maximize utensil storage with your own custom-made drawer dividers. This easy DIY project will have your kitchen drawers organized in no time.
This quick and easy project can be built with minimal tools in about an hour! Read more to learn how to make your own.
Photo Credit:
www.bybrittanygoldwyn.com
A custom built spice rack for your kitchen drawer will have your spices organized and at the ready whenever you need them. You don't need any power tools for this project! Just a miter box and wood glue will do!
Photo Credit:
craftedbythehunts.com
Every kitchen needs one of these genius Ziploc bag organizers. No more smashed boxes of baggies when you have one of these in your kitchen drawer!
You can make this organizer with basic tools and plywood. Paint it any color and add labels to make it easier to grab the one you need.
Other Drawer Organizer Ideas
We all have that one drawer…the one where everything that doesn't have a home somewhere else gets dumped. Get the chaos under control with one of these handy organizers!
I came up with a method for making drawer dividers in minutes! You only need a few basic supplies, and no power tools are necessary. It's perfect for Lego storage because it's lightweight and easy to change.
This will work for almost any shallow drawer, bin or box, so you could use them anywhere in the house! They're also adjustable, so you're not stuck with the same configuration if the contents inside change.
Photo Credit:
abutterflyhouse.com
Get your office supplies organized with this easy DIY project made from scrap wood. You can make this desk drawer organizer using just basic tools and inexpensive 1×2 boards. This would be a great scrap wood project if you have leftover pieces laying around the garage!
Photo Credit:
www.songbirdblog.com
I love this creative idea! All you need is some pretty paper and tape to cover up old cardboard boxes and turn it into bright, cheerful storage!
Photo Credit:
www.lovelyetc.com
You can make these dividers and get your junk drawer organized for just $10 in under an hour! You'll never have to rummage around for tape or a screwdriver ever again!
Photo Credit:
www.bybrittanygoldwyn.com
Here's another junk drawer organizer that can be assembled with just a hand saw and glue!
Photo Credit:
jenwoodhouse.com
If the contents of your drawers is always changing, you need dividers that can change along with it! This drawer organizer is adjustable, so you can easily change the layout anytime.
Photo Credit:
sawdustgirl.com
This one just might be my favorite because I'm a sucker for workshop organization! This system is made from pegboard and dowels that you can rearrange to any configuration you need. It's perfect for all those bits that would otherwise roll around in a drawer or bin!
Which one of these drawer organizer ideas is your favorite? Let me know in the comments below!
Check out these other storage ideas!